The MACH Booster
The MACH Booster is Aries' commercetools Accelerator. This composable commerce accelerator uses prebuilt components and a proven delivery approach to decrease implementation time and cost. The MACH Booster delivers end-to-end anonymous commerce of your products within 100 days of kick-off.
Our commercetools accelerator achieves three objectives:
Speed


The MACH Booster decreases the time needed to start your project and the time necessary to complete your project. You will get value quicker with significant cost savings.

Predictability


The MACH Booster uses a proven methodology for delivering composable projects with repeatable and predictable processes, milestones, and artifacts.

Confidence


The MACH Booster confidently delivers core commerce capabilities in 100 days, showing your organization the viability and capability of composable commerce.
The MACH Booster follows the Pareto Principle, or 80-20 rule, where 80% of commerce functionality can be commoditized and completed in 20% of the project's overall time. For example, every commerce implementation, regardless of the organization's size or industry, requires the ability to add or remove items from a cart. With our reusable components, we spend significantly less time developing standard capabilities and more time focusing on unique capabilities for your business. Using our collective experience of over thirty commercetools implementations, we have layered on a governance and delivery plan that leads to successful implementations.
Our accelerator is neither a bundled, pre-packaged solution nor an end state. It is a true commercetools accelerator that delivers faster and more predictable results in 100 days. It provides you with the foundation necessary for iterative development. Like a rocket booster providing the additional acceleration for a successful shuttle launch, the Aries MACH Booster accelerates your composable transformation and ensures your organization's success.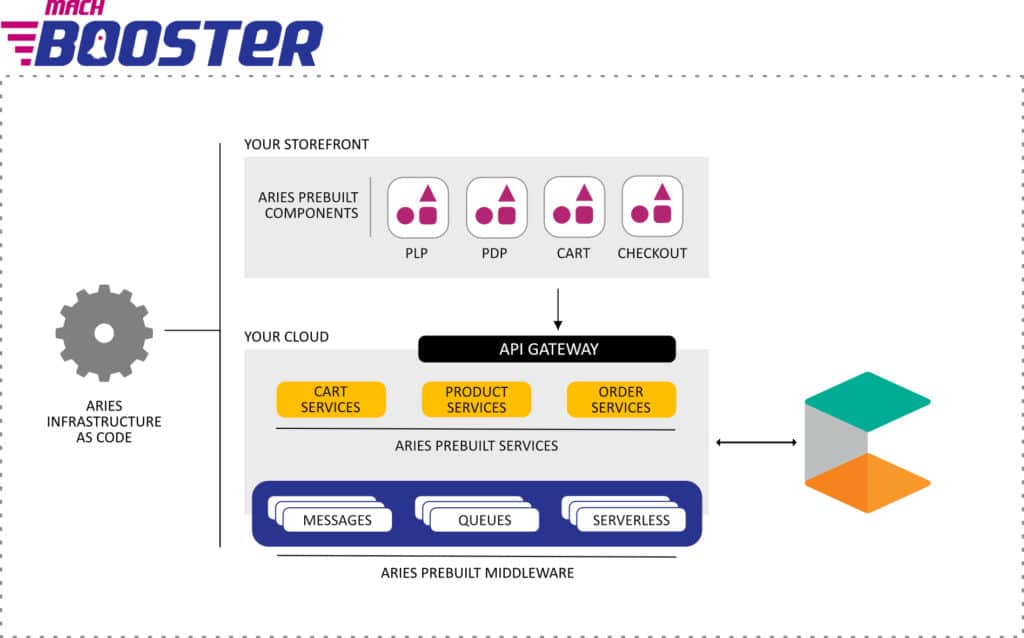 Need Help?
Are you looking for a commercetools accelerator? Are you interested in composable commerce and need to talk to an expert? Don't hesitate to contact us. We are excited to meet you!